We are still accepting tax appointments through the end of May to file 2019 returns. 
Our fee will be $138 personal Federal and IL state.  The $69 is only valid 1/15 thru 4/15.
Appointments can be made by calling (779)220-9608.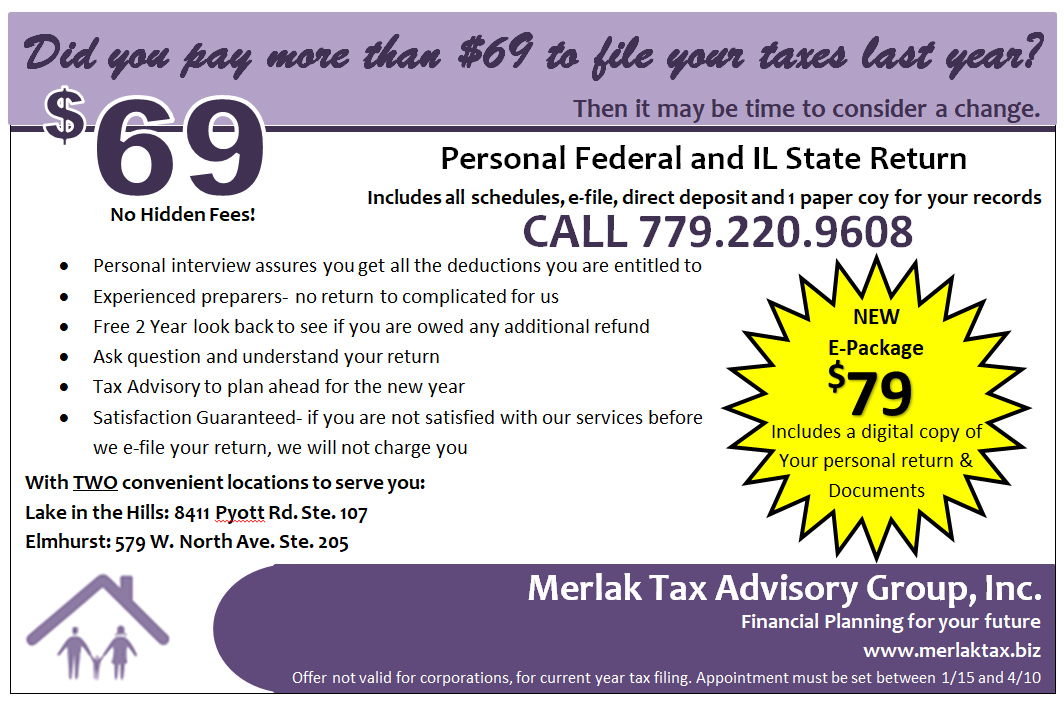 Did you pay more than $69 to file your taxes?
Then it may be time to consider a change. Personal Federal and IL state return that includes all schedules, e-file, direct deposit and copy for your records, for $69. That's it. No hidden fees or charges.
Next steps:
CALL (779) 220-9608 to schedule your appointment. We cannot take email requests as we don't want to overlook a request.
Review our appointment checklist and complete the medical checklist if you feel you might be able to deduct medical expenses.
Please note that this will be a 2 appointment process. PAYMENT OF $69 IS DUE ON THE FIRST APPOINTMENT AND we accept cash, check, credit or debit. You can pay ahead of time online by clicking the "Buy Now" button.
You will have a 30 minute interview appointment and then leave your documents with our preparer. Once your return is completed, you will be called to set a pick up appointment. You will sign the authorization to e-file on the pick-up appointment. Your taxes will NOT be filed until all documents are signed.